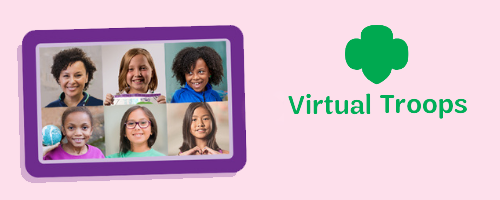 All Girls are invited to join us in our Virtual Troops
These are troops for existing Girl Scouts who unable to participate in their traditional troop due to health and safety concerns regarding COVID-19 or for girls who wish to participate in a hybrid method of meeting with both their traditional troop and in a virtual council run troop meeting via Zoom. Each monthly meeting will have a badge focus.
To register to a virtual troop, go to your MyGS account to add the below troop numbers to your participation, or contact us at girlscoutshelp@gssn.org for more information.
Troop 3000 Daisy- meets the 1st Tuesday of the month 4:30-5:30
Troop 3010 Brownie- meets the 2nd Tuesday of the month 4:30-5:30
Troop 3001 Junior- meets the 3rd Tuesday of the month 4:30-5:30
Troop 3011 Cadette, Senior, Ambassador- meets the 4th Tuesday of the month 4:30-5:30

October badge focus – Democracy
November badge focus- Coding for Good
December- Entrepreneurship
January- Citizenship
February- STEM Career Exploration
March- Environmental Stewardship
April- Automotive Engineering
May- Cybersecurity
June- Art in the Outdoors
July- Mining
August- Naturalist
September- Space Science

Please note: The Zoom link and supply list will be emailed a few days prior to the meeting. It will not always be possible to complete an entire badge in one meeting and girls will need to finish some of the badgework at home.
Badges can be purchased at the GSSN shop. Click here to view shop hours and details.